At EDGE, our goal is to design elegant, innovative buildings and spaces, particular to their unique inhabitants, which integrate nature and coexist harmoniously with their environment. Our designs celebrate creativity and enhance the quality of life for all involved, while demonstrating a thoughtful interconnectedness with the earth.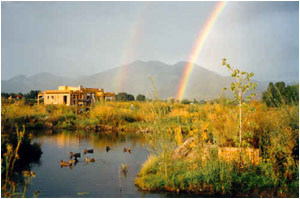 We believe it is possible to make a personalized structure that meets and exceeds your dreams and expectations and is also environmentally appropriate. We practice a positive design approach that seeks to create healthy relationships between the natural environment and the built environment.
Environmentally responsive design is a process of making informed choices to create healthy, comfortable buildings that are in harmony with the environment and ourselves. EDGE is committed to making sustainability a top priority. We believe that Architecture must be responsive to human needs without sacrificing the needs of future generations by respecting our natural resources. We can achieve this in two phases. First, beginning with an assessment of the natural systems of a site, we orient the building to best take advantage of the site's natural flows of sun, wind, and water, reducing or eliminating dependence on mechanical heating and cooling systems and daytime lighting. Second, by using materials that are locally available, indigenous, natural and/or removed from the waste stream (recycled or re-used).
We work closely with Owners to define the program and the budget, as well as discuss their aesthetic and spiritual hopes for the project. We feel that the best designs are those that are true collaborations between Owners and Architects. We welcome your input in the form of sketches, photographs, magazine clippings, etc . We are open to new ideas, different methods and unusual materials. We believe that it is essential that the Owners feel they can lay claim to the home as their own.
With an understanding of site and project goals, we can translate this information into a three-dimensional form that inspires you as it satisfies your functional and aesthetic requirements within a project that is unique and innovative.